pi-top Halloween Project
Contest!
*You don't need pi-top products to participate*
At pi-top we firmly believe that computer science applications can be extended to literally everything, including Halloween decorations!
Our Project Designer, Marielle Wells, certainly proved our point with her rendition of a glowing haunted house, fit with eerie sounds, a cackling flying witch and a creaky automatic front door... *chills*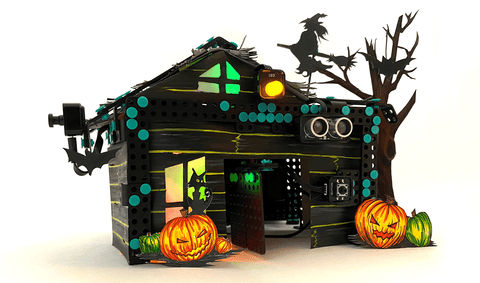 pi-top Halloween Project Contest!
This year we are challenging schools to get frighteningly creative with the spirit of Halloween and build the best Halloween project of all time.
Grand prize winner will receive their very own Robotics & Electronics Superset!
The rules are simple:
Students must work in groups to construct a Halloween-themed project that creatively incorporates computer science technology
The type of technology &/ concepts used is up to the discretion of the supervising teacher and there is no limit on how much can be used
Each class is allowed one submission only
Submissions are to be made in a video format via uploads to YouTube

All videos must begin and end with a mention of the "pi-top Haunted House Contest" and must feature the pi-top logo either on the house itself or somewhere in the video

Videos should be taken in landscape format with minimum resolution of 720p and a maximum duration of 60 seconds and the link must be entered into the submission form
Winners will be determined by public voting! In the event of a tie-breaker, our Project Designer will cast the final vote.
In each video, teams have the chance to show off all the specific features of their 'haunted house' and describe the inspiration or functionality behind it. The important thing is to have fun with it!
To learn how to make the pi-top haunted house created by our talented pi-top Project Designer head over to Further to follow the lesson.
For any questions or feedback, please email us at marketing@pi-top.com.
---
pi-top Logo
Download JPEG, PNG and EPS versions of the pi-top logo to use on your comms (2.6mb)
---
Submit Your Project Video!